A 39-year-old man, a smoker since age 16, is seen in the clinic with
complaints of fever, cough, and production of yellowish sputum. He has
been chronically short of breath, but these symptoms have increased over
the last week after he developed a flulike illness. On exam, he is febrile and
looks ill. Lung exam reveals diffuse wheezing with egophony and whisper-
ing pectoriloquy on the right side. ABGs show PO2 of 55 mm Hg on room
air, and sputum is negative for TB. Chest x-rays are shown below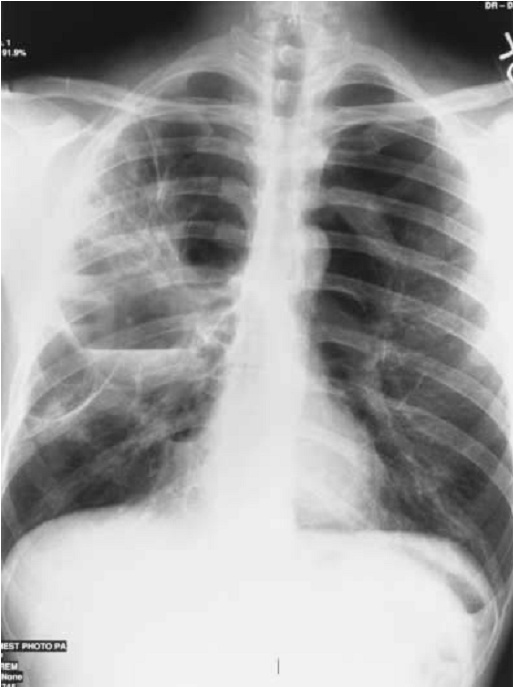 Question 1.
The next step in the management of this patient would be
a. Arrange with intervention radiology to do a needle aspiration
b. Consult thoracic surgery for lung reduction surgery
c. Start antibiotic and O2 therapy
d. Admit patient in an isolation room
Question 2.
Appropriate measures at the first follow-up should include
a. Pneumococcal and influenza vaccine
b. Allergy testing
c. Detailed occupational history
d. Genetic counseling



Posts

: 48


Join date

: 2010-06-15



Seems like the patient is suffering from an acute exacerbation of obstructive airway disease( after infulenza episode leading to LRTI/Pneuomonia?. He has hypoxemia and Xray Chest shows a lung abcess in right middle/lower zone ( possibly complication of pneumonia? )


Answer 1: Admit with antibiotic and o2 therapy

Answer 2: Pneumococcal and INfluenza vaccine
Admin




Posts

: 44


Join date

: 2010-06-13



You are absolutely right Hunain. Original disease causing multiple cystic large cystic spaces/bullae is not clear from question and is also not asked. I have taken this question from Chest Radiology-Pretest series for MRCP-II, one of my favourites. I am copying the full answer below. I will keep answering the the case discussions/quiz posted, but I wish a few other ward doctors would join.

The answers are
Question1-c
Question 2-a

One of the complications of multiple air-containing cystic spaces or bullae is infection, especially if open communication with airways is present. This is seen as multiple air-fluid levels, the immediate treatment plan should include aggressive antibiotic therapy and oxygen supplementation. Other options are inappropriate at this stage. As sputum is negative for AFB, respiratory isolation is not necessary. Needle aspiration in severe bullous disease is hazardous, and lung reduction surgery may be a long-term option but is clearly not indicated during acute infection. As a follow-up, prevention of pneumonia and influenza is of top priority because it has been shown to reduce mortality and morbidity. Other options outlined serve no specific purpose.



Posts

: 48


Join date

: 2010-06-15



Thank you sir for the good brain storming, its quite helpful in our everyday clinical experience. I would really be happy if other people from our ward would join in the discussions...its pretty depressing when you see only two people out of 60 engaged in clinical discussions...:-(
Admin




Posts

: 44


Join date

: 2010-06-13




---
Permissions in this forum:
You
cannot
reply to topics in this forum