This funcdoscopic picture is from 71 year old man with a large skull and a
bowed right tibia and femur.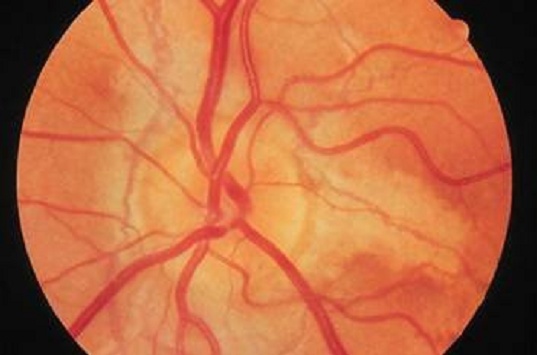 1) What does it show?
a. Secondary optic atrophy.
b. Angiod streaks.
c. Anterior ischemic optic neuropathy.
d. Optic nerve head drusen.
e. Bergmeister's papilla.
2) This finding can also be characteristically seen in:
a. Pseudoxanthoma elasticum.
b. Hypertensive retinopathy.
c. COPD
d. Adult polycystic kidney
e. Bacterial endocarditis.
3) Regarding its effect on vision, which one of the following statements is true?
a. Can cause severe tubal vision.
b. It is the precursor of retinitis pigmentosa.
c. It is totally asymptomatic in 30% of cases.
d. Usually associated with acute glaucoma in the majority of cases.
e. If left untreated, can produce severe secondary optic atrophy.



Posts

: 48


Join date

: 2010-06-15



Answer 1: Angiod streaks

Answer 2: Peudoxanthoma elasticum

Answer 3: Asymptomatic in30 %
Admin




Posts

: 44


Join date

: 2010-06-13



All your answers are correct. Read the full answer

Abnormality is the dark grey streaks with irregular edges that seem to be underlying the retina. These are due to breaks in the Bruch's membrane of the retina. It is symptomless in 30% of cases; however 70% are having reduction in the visual acuity due to involvement of the fovea by the streaks per se, a choriodal rupture, or a hemorrhagic detachment of the fovea, or choroidal neovascularization and its complications. It is seen in Paget's disease of the bone, sickle cell disease, Ehler Danlons syndrome, and pseudoxanthoma elasticum. Up to 50% of angiod streaks are idiopathic.



Posts

: 48


Join date

: 2010-06-15



It would really be helpful if you put up fundoscopy images regularly..i for one have considerable interest...:-)....
Admin




Posts

: 44


Join date

: 2010-06-13




---
Permissions in this forum:
You
cannot
reply to topics in this forum